Custom Scientific Glassware
Custom & laboratory glassware glassblowing
In the world of scientific research, precision is paramount. Every experiment, every analysis, and every breakthrough hinges on the reliability and quality of the equipment used. This is where custom scientific glassware comes into play, serving as the unsung hero behind many groundbreaking discoveries.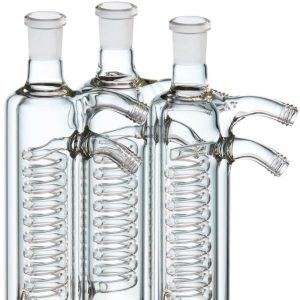 OEM manufacturer you can trust
In the pursuit of scientific excellence, research institutions and OEM companies require dependable partners who can supply bespoke glassware of the highest calibre. We take pride in being the preferred manufacturer for some of the industry's most esteemed names.
Custom fabrication services
Our journey begins with a singular focus on precision. Every piece of custom glassware we create is meticulously crafted to meet the exact specifications of our clients. Our team of master craftsmen, trained to the highest Swiss standards, combines artistry with science to produce glass apparatus that surpasses expectations.
Custom design & fabrication of scientific glassware
The true beauty of custom laboratory glassware lies in its versatility. Whether you need a complex glass cell for cutting-edge experiments or a custom-made repair fixture to breathe life back into your research equipment, we are your go-to partner. Our custom design and fabrication services cater to a wide range of needs, ensuring your experiments run seamlessly.
Custom glass capabilities
Our expertise extends beyond the ordinary. We specialize in borosilicate glass, known for its exceptional durability and resistance to high temperatures. This material is a favourite in chemistry labs and research facilities. When you choose us, you're choosing quality that stands the test of time.
Unwavering commitment to quality
In the fast-paced world of research and industry, time is of the essence. That's why we not only deliver exceptional products but also ensure swift and reliable service. Our dedication to quality and efficiency has earned us the trust of countless customers who rely on our glassware to advance their research and businesses.
The science behind the art
Our commitment to the craft of glassblowing goes hand in hand with our dedication to the advancement of science. We understand that scientific progress relies on the finest materials and the most precise instruments. Our production facility boasts state-of-the-art energy recovery technology and extensive machinery for the processing of glass, ensuring that every piece we create meets the highest standards of quality.
Contact us
In the world of scientific glassware, precision and quality are non-negotiable. Whether it's intricate glass pieces, custom repair work, or specialty glass products, we are your reliable partner. With a legacy of master craftsmanship, unwavering commitment to quality, and a passion for advancing science, we stand as the manufacturer of choice for custom scientific glassware. Choose us, and experience the difference precision makes in your research and industry.
Contact us today to explore our custom glassware services and take a step towards precision, quality, and innovation in your scientific endeavours.