Scientific Glassblowing Repair
Your trusted partner in scientific glassware
When it comes to scientific glassware, precision and reliability are paramount. Whether you're conducting groundbreaking research or operating a cutting-edge laboratory, having the right glass reactors is crucial for your success. That's where our expertise comes into play. Welcome to the world of scientific glassblowing repair, where master craftsmanship meets the demands of modern science.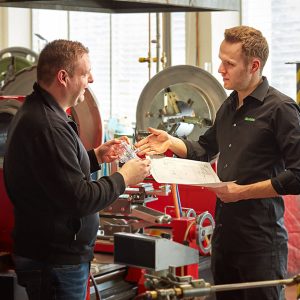 Scientific glassblowing repair
At our core, we are scientific glassblowers dedicated to the art of creating and repairing scientific glassware. Scientific glassblowing is an intricate craft that demands skill, experience, and an unwavering commitment to excellence. We understand that even the smallest flaw in a glass piece can have a significant impact on your research, which is why our team of skilled artisans is here to provide top-notch repair work.
Precision glassblowing
Precision glassblowing is at the heart of what we do. Our trained and experienced glassblowers are held to the highest Swiss standards, ensuring that every glass apparatus we create or repair meets the most stringent quality requirements. We work with a wide range of materials, including borosilicate glass, to craft intricate glass pieces that are essential for your laboratory experiments.
Custom & laboratory glassware
One size does not fit all in the realm of scientific glassware. We understand that your research may require custom-made glass apparatus that are tailored to your specific needs. Our custom department excels at creating unique glass pieces designed to meet your exact specifications. Whether you need a custom repair fixture or a laboratory glassware set, we've got you covered.
Trusted OEM partner for scientific glassware
As an original equipment manufacturer (OEM), we are your unwavering partner in the world of scientific glassware. Our team of highly skilled scientific glassblowers boasts years of experience and a commitment to delivering top-tier glass products tailored to your exact research needs. Whether you require custom laboratory glass apparatus, intricate repair work on delicate glass parts, or precision-crafted borosilicate glass components, we're here to exceed your expectations.
Types of repairs and cost
When it comes to repairs, we offer a comprehensive range of services. Whether you have a minor crack in your glass apparatus or need a complete overhaul, our team can handle it. We understand that cost is a critical factor, and we provide transparent pricing for our repair work. Rest assured that our pricing is competitive without compromising on the quality of our service.
Contact us
Scientific glassware is the backbone of research and experimentation in various fields, from chemistry to biology. Choosing a reliable partner for your glassware needs is paramount, and we take that responsibility seriously. Our commitment to precision, quality, and craftsmanship sets us apart as a trusted provider of scientific glassware, repair, and custom solutions. When you partner with us, you're investing in the success of your research, and we're honoured to be part of your scientific journey. Contact us today to discover how we can elevate your laboratory experience with our precision glassblowing and repair services.